Big shout out to our Locum veterinarain Dr Steve, he and a group of very talented vets have trekked all the way over to Borneo to perform life changing surgery on a Sunbear named Hitman and an Orangutan called Ester!
Here are some photos of the amazing experience. Well Done Dr Steve, we are very proud!
Hitam the sunbear was poached from the wilds of Borneo as a cub. Her canine teeth were filed down to make her a better pet, and she was sold to a local family. She was raised on a diet of rice and milk, which is completely unsuitable for a bear.
After 5 years of illegal captivity, she was confiscated and sent to the Orangutan Foundation International Care Centre, where she now resides with another 17 sunbears and over 400 orangutans.
As a result of Hitam's terrible diet, she has suffered growth deformities. She is small for a bear of her age, and her hip didn't form properly. Her pelvic opening is only 1 cm – it should be 4-5cm. The simple act of passing faeces is an agonising process for her, and has resulted in her bowel becoming very enlarged.
She was n constant pain, and is a very cranky bear.
The aim of the surgery is to create a normal hip for Hitam, and give her a pain-free life. Click here to read more.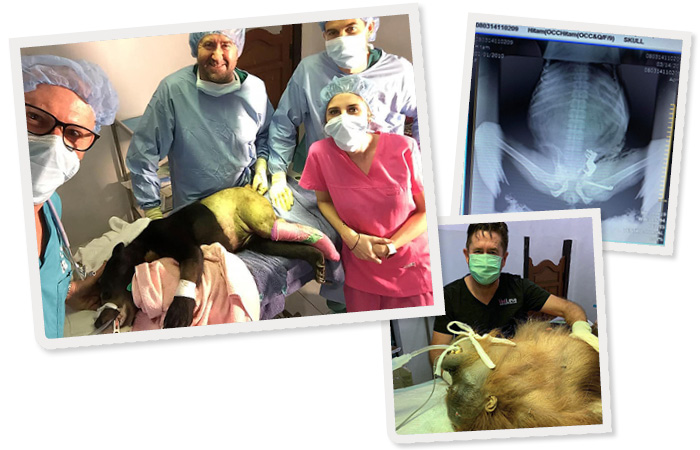 ---
We want to thank you from the bottom of our hearts!
Our Operation Sun Bear Borneo crowdfunding campaign has just finished and we are thrilled to let you know that we reached our goal and raised over $20,000 towards the urgent surgery and aftercare needed for little sun bear Hitam.
Because of your kindness and generosity, in 2 weeks time (on 17th September), our extraordinary vet team will operate on Hitam at the Orangutan Foundation International (OFI) Care Centre in Central Kalimantan, Borneo. After a lifetime of pain and suffering the operation can't come soon enough for this sweet little sun bear. We can't wait to see her pain free!
On top of that, because of your help, the team will also operate on Ester, a 30-year old orangutan, while they are at our Care Centre. Ester was rescued by OFI from the wild some months ago. She has a very serious and painful fracture in her arm and a severely dislocated shoulder, so is unable to use her arm at all, let alone climb a tree.
You have made these desperately needed surgeries possible.
We are so grateful for your support.
With big bear hugs from Hitam and loads of orangutan love from Ester.